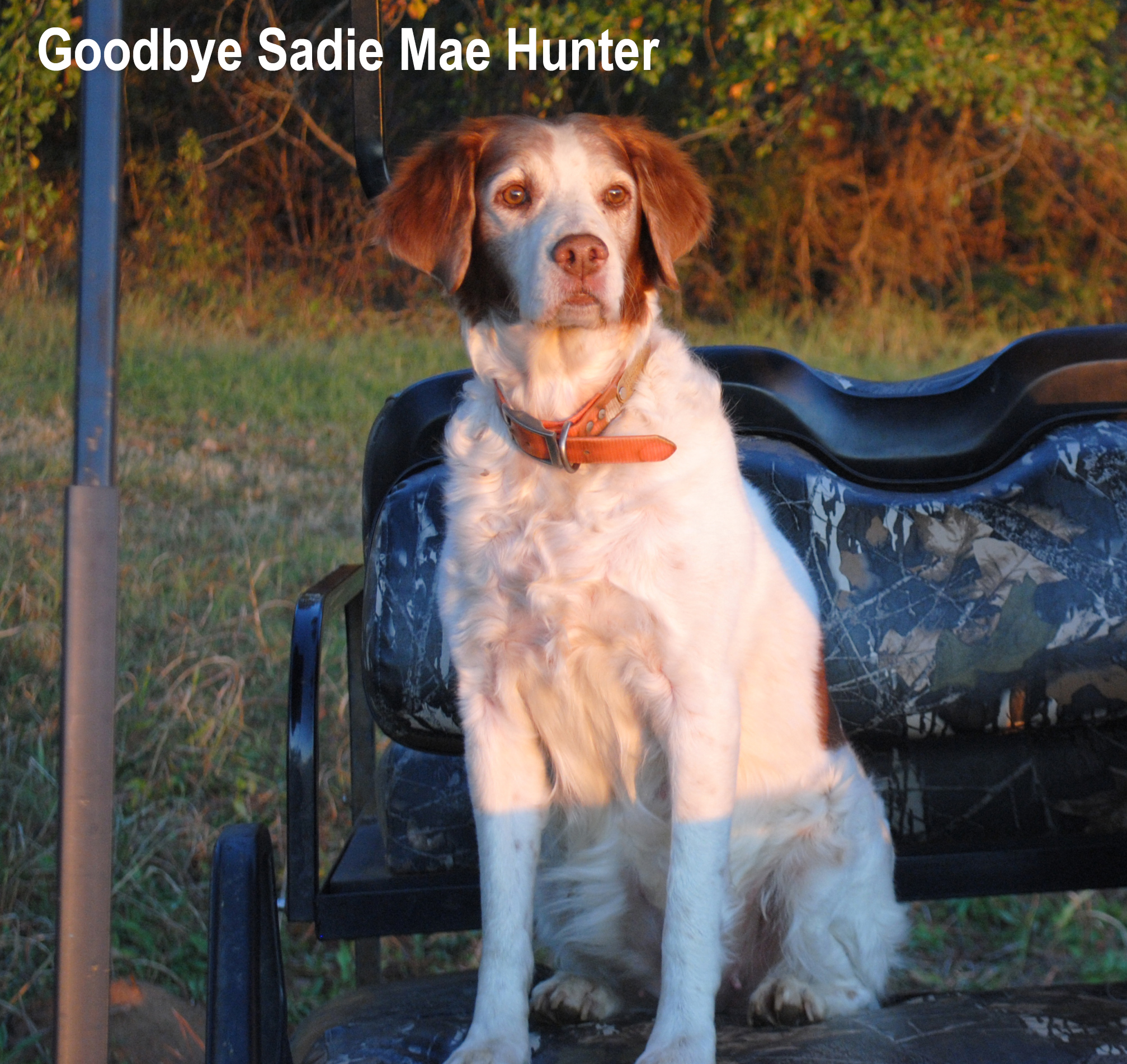 "I'm worried that she might be shy and too laid back, her brothers have really beat up on her", said Loyce Cox about our new puppy we were picking up. But let me back up a bit. We had lost our beloved Ginger, a beautiful Springer spaniel a few months before. Bob and I were talking with Ed Palmer and he asked if we had thought about getting another dog. I said I just wasn't sure…it was too soon. His answer was that his Brittany Spaniel, Red, had sired a litter of puppies at Cox Covey, in Shorter, Alabama, and he had the pick of the litter. Problem was, Ed really wasn't ready for a new dog…so he offered us his pick. He had definitely gotten my attention…but I really wanted a girl. He said the pick would be easy because there was only one little girl in the litter. Well the "puppy fever" was starting. One look at each other and we decided, we were getting a Brittany.
So when we went to pick her up, that's when Loyce made her statement, which we basically took as a prediction…our new puppy was going to need some help overcoming the treatment from her brothers. So Sadie came home with us, we were in love. At her first vet visit, Sadie met my sister, Teresa, and her only comment was that she could not be named just Sadie…southern girls have to have a double name, so Sadie Mae it was.
To say we were in love with her was an understatement. We put her pictures on Bob's website and updated every few weeks, just like you do with a first child. When we went to gun shows, as far away as New York, folks would stop by our booth and ask, "How is Sadie Mae?" It seemed like the whole world was in love with our baby.
Sadie Mae was an awesome bird dog. She showed off everywhere she went…and we often remembered Loyce's "prediction" of a shy Sadie Mae. She was just the opposite, tough, boisterous and a real show off. Actually Sadie Mae acted and looked much more like a male dog than a female. Of course our son, Cooper, didn't help…he played and wrestled with her and she became a rough girl.  She was a big, husky girl and would run any female dog off who got too close to her daddy; however she liked the boys.
Sadie Mae gave us a litter of beautiful puppies, and of course we picked one pretty little girl to keep, Magnolia Blossom, better known as Maggie. So Sadie Mae and Maggie became a duo, a formidable duo at that. They hunted together, slept together, played together and were inseparable. They went to the beach with us every year and played in the surf like little children. At eight years of age, our sweet Maggie got bladder cancer, and despite treatments at Auburn, died and left us broken hearted. A few months later, we got our precious Bonnie Blu and hoped to give Sadie Mae another dog to pal around with. Well they hunted together, but that was the extent of it…Sadie Mae just wouldn't accept another dog in the place of her Maggie. So poor Bonnie Blu was ignored, growled at and made to feel very unwanted by Sadie Mae; but she was loved by us. And so in another year we got Molly Brown and she and Bonnie Blu are best friends. We just shook our heads and said, "She's just Sadie Mae, and she's a bit of a bitch." But in the last few years, Sadie Mae became the ol' girl, she forgot she was a bitch and actually became much nicer all the way around.
She was a master at quail here in Alabama, went quail hunting in Texas and pheasant hunting in the Dakotas. In fact, Sadie Mae was called "the legend" on the Indian reservations where Bob hunted pheasant. She was known to pull many a squawking pheasant rooster out from under a dead log with the guides laughing and enjoying the show. She hunted for 14 years in the Dakotas. Two years ago she retired and just enjoyed eating and sleeping and getting her loving from us.
 Sadie Mae was born in 2002, lived a healthy, loved, talented and extraordinary life. She died today, April 2, 2019. We are heartbroken, and sick. But we were fortunate to have loved her for so long. As I told her goodbye, I assured her that where she was going there are plenty of quail and pheasant, and that she would feel wonderful again; and that she should watch for us, we will be there someday.